Research
The UCSC Greenhouses provides research space at our facility with the recommendation of supporting faculty or the UCSC Greenhouse Manager. For information about recharge rates or to request space, please see the Research Greenhouses page.
The Research greenhouses are located on the roof of Sinsheimer Labs, the roof of the Interdisciplinary Sciences Building (ISB), at the Coastal Science Campus (CSC) and on the roof of Thimann Labs. These greenhouses provide support for faculty, post docs, researchers, visiting faculty, graduate, and undergraduate students doing plant-related research in the departments of Molecular, Cellular and Developmental Biology (MCD), Ecology and Evolutionary Biology (EEB) and Environmental Studies (ENVS).
The greenhouse environments are all computer controlled resulting in carefully regulated environments. There are many advantages for locating greenhouses on a roof—many of the pest and disease problems associated with conventional ground settings are eliminated; conventional field crop production is located far enough that pests do not drift in but close enough to be accessible for research; light levels are optimized; vandalism is far less likely to be a problem.
There are sixteen separate greenhouse climates within the four locations. These greenhouses were built to accommodate many types of plant research and provide flexible environments to accommodate the growing faculty needs for plant research and instruction. We currently provide a range of environments for diverse types of research such as:
Pesticide free environments for insect-plant experiments
Elevated CO2 greenhouse and growth chamber
Isolated environments for plant pathology experiments
A biosafety level-2 greenhouse with adjoining autoclave room for transgenic plant experiments
HID (1000W metal halide) lighting for experiments requiring different daylengths or supplementary light
One greenhouse with ambient conditions to replicate outdoor conditions for restoration and conservation experiments dealing with local rare and endangered plants
The Sinsheimer location is 100% designated for research. The facility was built in 1990 and consists of three greenhouses. These 20'x 30' greenhouses are computer controlled to provide consistent, reliable environments for optimal plant growth. In addition, they are equipped with alarms to notify staff of malfunctioning equipment. Back-up control systems are activated in the event of computer malfunction and there is a backup power source.
An autoclave is adjacent to the level-2 containment greenhouse to facilitate disposal of transgenic plants, decontaminate soil, etc. The lab area, adjacent to the greenhouses and plant growth room is available for potting, harvesting experiments, microscope use and sanitizing containers.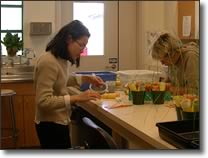 The plant growth room has six Conviron E-15 plant growth chambers with extended growth height and four Percival I-35LLVL incubators. Also available in this room are deionized water, compressed air and a back-up emergency power source. All equipment in this room is connected to the campus alarm system. Staff are notified in the event of equipment failure.
Undergraduate students with a faculty sponsor may complete their one-quarter internship/independent study requirement for the Plant Science Major in the research greenhouses. Anyone interested in pursuing this should contact the Biology Advising Office, the Environmental Studies Internship Coordinator or one of the sponsoring faculty.
A large outdoor growing area is available on the roof adjacent to the greenhouses. This 1000 sq. ft. area has retractable shadecloth. The area can be arranged to accommodate large experiments requiring ambient conditions. Movable benches can be easily arranged to assume many configurations.
The weather station monitors local conditions and allows us to maintain records for many years. This has proven useful for research papers requiring such data for the duration of experiments.
A separate greenhouse on the roof of Thimann Labs, the Ecology House (EH), is useful for research involving plant-insect interactions because it is isolated from areas where pesticides are applied. This location is also ideal for experiments such as seed bank studies which require ambient conditions yet protection from rain and extreme cold in the winter months.
The large headhouse at the Thimann facility is useful for setting up experiments especially with many replicates. The soil sterilizer located at one end of the headhouse can accommodate 1/3 cubic yd. of soil. There are also two Conviron E-15's and two Percival I-35LLVL Incubators located here. Although their primary function is for instruction they are often used for extensions to experiments in the EH.
INTERDISCIPLINARY SCIENCES BUILDING (ISB)
The ISB Greenhouses opened in 2003. These five additional 10'x 20' greenhouses are used mainly by the faculty, researchers and students of the Environmental Studies Department one floor below. They are located on the roof of the ISB and are accessible by elevator or the exterior stairway. As with our other greenhouses these have computer controlled environments, a back up power generator, HID lighting, deionized water and compressed air.
A user friendly headhouse is attached to two of the greenhouses. This is ideal for setting up class experiments to be located in these greenhouses. Equipment available for use at this location include: soil sterilizer, toploading balance, soil moisture meter, environmental chambers, CO2 gas analyzer, drying oven, plant presses, soil/seed sieves, leaf area meter, datalogging equipment and a dissecting microscope.
The plant growth room is adjacent to the lab area. Available for use are two Conviron E-15's- one with an additive CO2 option, a Percival I36LLVL Incubator and a Percival E-36L growth chamber.
A large outdoor growing area is located adjacent to the greenhouses with a beautiful view of the Monterey Bay!
  Coastal Science Campus Greenhouses
The 2018 Research Greenhouse facility on the Coastal Science Campus includes six greenhouses with 2,800 sq ft of lab space on a Pacific coastal terrrace within the Santa Cruz city limits, three miles from the main UCSC campus. This facility boasts six Conviron PGR 15 growth chambers four Percival I36VLXC8 incubators along with it's 4,200 sq ft of greenhouse space and a 1,200 sq ft outdoor area for research plant growth. This high tech range is fitted with shade cloth, HID lights, RO water, an autoclave and the latest Argus environmental controls. Situated on the coast in close proximity to the Ecology and Evolutionary Biology Department and UC Reserves helps to facilitate research conducted by the Physical and Biological Sciences division and the divison of Social Sciences.